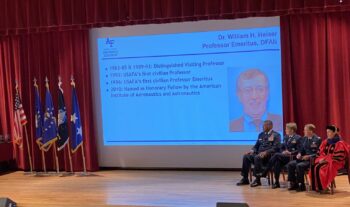 PAI Teaching Associate Dr Aaron Byerley often cites this quote attributed to Theodore Roosevelt "Students don't care how much you know until they know how much you care" (Roosevelt's original quote used "People" instead of Students).  That care, that innate desire for students to learn remain top priorities of PAI teaching.  When asked about what feedback they'd been hearing about our classes, a longstanding customer recently shared "…great teaching, approachable teachers with an obvious passion for what they do."
On 5 May 2023, Aaron and I attended the Heiser Award Ceremony at the USAF Academy.  Dr William H. Heiser (Dr H), whose memoriam is contained in these Blog posts, was a mentor, role model, colleague, & friend to Aaron, me, and so many others.  The Heiser Award highlights the high esteem cadets hold for the academic faculty.  Each year, graduating seniors alone nominate and vote for two educators based on their leadership, their dedication to the art of teaching and ability to inspire excellence in all they do.  The nominations inevitably describe the genuine care and concern for students demonstrated by these teachers.
Please take 4 minutes to listen to the wonderful, heart-felt tribute of Christopher Heiser to his father.  He and the other 3 Heiser children – Katie, Stephen, and Lindsey – graciously attended this first ceremony since Dr H's passing.  You will learn about what teaching meant to one of the modern age's aviation giants, named an Honorary Fellow by the American Institute of Aeronautics and Astronautics, along with the likes of Orville Wright, Ludwig Prandtl, and Wernher von Braun.