These recommended titles come from our owners and teaching associates who enjoyed the read/viewing. Hope you enjoy some of them as well!
PAI does not receive any compensation for these recommendations – we simply like airplanes.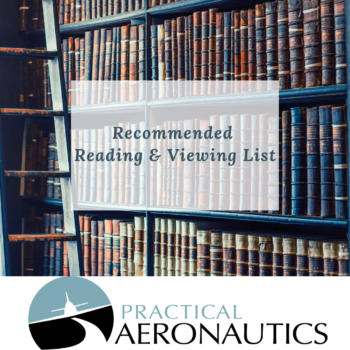 AVIATION THEMED:
Target Tokyo: Jimmy Doolittle and the Raid That Avenged Pearl Harbor, by James M. Scott, W.W. Norton & Company, 2015.  
Skyfaring: A Journey with a Pilot, by Mark Vanhoenacker, Knopf Doubleday, 2015.
Reach for the Skies:  Ballooning, Birdmen, and Blasting into Space (A Personal History of Aviation), by Richard Branson, Penguin, 2011.
Charles E. Taylor: 1868 – 1956 The Wright Brothers Mechanician, H.R. DuFour with Peter J. Unitt, Prime Digital Printing, 1997.
Boyd: The Fighter Pilot Who Changed the Art of War, Robert Coram, Back Bay Books, 2002.
The Air Force and The Great Engine War, Robert W. Drewes, University Press of the Pacific, 2005.
The Right Stuff, Tom Wolfe, Picador, 2008.
Unlimited Horizons: Design and Development of the U-2, Peter W. Merlin, NASA Aeronautics Book Series, 2017.
The Bomber Mafia: A Dream, a Temptation, and the Longest Night of the Second World War, Malcom Gladwell, Abacus/Allen Lane Ltd, 2021.
The Wright Brothers, David McCullough, Simon & Schuster, 2016.
Tiger Check, Steven A. Fino, Johns Hopkins University Press, 2017.
Flight of Passage: A Memoir, Rinker Buck, Hyperion, 1998.
Visions of a Flying Machine; The Wright Brothers and the Process of Invention, Peter L. Jakab, Smithsonian Institution Press, 1990.
Flight 232; A Story of Disaster and Survival, Laurence Gonzales, W. W. Norton and Company, 2014.
Roskam's Airplane War Stories, Dr Jan Roskam, DARcorporation, 2006.
Chasing the Demon, Dan Hampton, Harper Collins, 2018.
I Could Never Be So Lucky Again, James Doolittle, Bantam, 1991.
Airborne, Neil Williams, Airlife, 1977.
The Spirit of St Louis, Charles Lindbergh, Scribners, 1953.
A Gift of Wings, Richard Bach, Dell, 1974.
Carrying the Fire, Michael Collins, Ballantine, 1974.
GENERAL SCIENCE/INFORMED CITIZEN THEMED
Power Trip – The Story of Energy, Michael E. Weber, Basic Books, 2019.
Physics for Future Presidents – The Science Behind the Headlines, Richard A. Muller, W.W. Norton and Co., 2008.
Five Equations That Changed the World: The Power and Poetry of Mathematics, Michael Guillen, MJF Books, 1995.
Digital Apollo: Human and Machine in Spaceflight, David A. Mindell, The MIT Press, 2011.
The Kill Chain; Defending America in the Future of High-Tech Warfare, Christian Brose, Hachette Books, 2020.
American: Autobiography of Benjamin O. Davis Jr., Smithsonian, 1991.
MOVIES/TV:
"Air Disasters" series, The Smithsonian Channel.
"Battle of Britain," Guy Hamilton, Director, Spitfire Productions, 1969.
"Midway," Roland Emmerich, Director, Summit Entertainment, 2019.
"Twelve O'Clock High," Henry King, Director, Twentieth Century Fox, 1949.
"Apollo 13," Ron Howard, Director, Universal Pictures, 1995.
"Strategic Air Command," Anthony Mann, Director, Paramount Pictures, 1955.
"The Right Stuff," Philip Kaufman, Director, Warner Brothers, 1983.
"Sully," Clint Eastwood, Director, Village Roadshow, 2016.
"Devotion," J.D. Dillard, Director, Columbia Pictures, 2022.
"Top Gun," Tony Scott, Director, Paramount Pictures, 1986.
"Top Gun: Maverick," Joseph Kosinski, Director, Paramount Pictures, 2022.