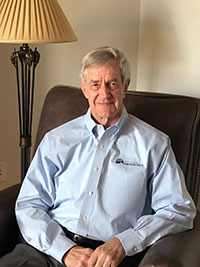 Craig Seymour is a 1977 Distinguished Graduate of the United States Air Force Academy, a retired Air Force Lieutenant Colonel, and a Past President of Practical Aeronautics. A former Instructor Pilot and Fighter Squadron Commander, Craig helped pioneer the use of night vision goggles in single seat fighters under combat conditions. He is a Command Pilot with more than 3000 hours in trainer and fighter aircraft and holds an Airline Transport Pilot rating. Craig earned his SM from the Massachusetts Institute of Technology, taught aeronautics and thermodynamics at the United States Air Force Academy, and was an adjunct faculty member at the University of Colorado at Colorado Springs. He retired from the Air Force in 1998 after serving as the Professor of Aerospace Studies at the University of Hawaii.
More recently, Craig gained ten years of experience with composites production, sales, and marketing as Manager of Customer Service and Product Development and Manager of Strategic Business Development for the world's largest producer of pultruded composites.
Craig is a Senior Member of the American Institute of Aeronautics and Astronautics (AIAA) and a registered Professional Engineer with the State of Colorado.