Page 13 of the March edition of Aerospace America magazine highlights the newest book releases from the AIAA. The top two titles, both Third Editions, Hypersonic and High-Temperature Gas Dynamics, and Aircraft Engine Design, are authored by folks affiliated with Practical Aeronautics! John Anderson, author of the former text, is a Consulting Associate, and Jack Mattingly, Bill Heiser, Dave Pratt, Keith Boyer, and Brenda Haven, authors of the latter text, are current or past instructors.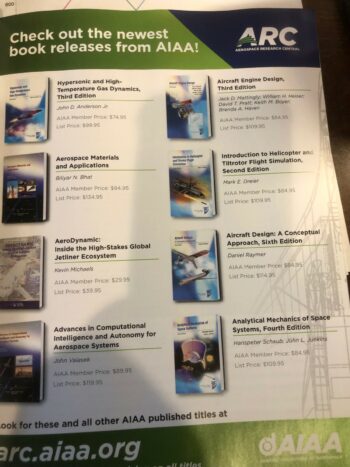 In this post, we highlight John D. Anderson, Jr., Jack D. Mattingly, and William H. Heiser, names many of you may recognize as they each have numerous textbook publications. Through their contributions, these men have forever influenced the aerospace world for the better. Brief biographies of each are on our website: www.practicalaero.com/about-us/. Here, we want to share some likely lesser known brief stories on these gentlemen as they remain mentors and friends to many of us.
John Anderson's outstanding contributions to aeronautics cannot be overstated. Any of us with aerospace engineering degrees are likely familiar with one or more of his many, "easy-read" books. Others may be familiar with his writings on the history of flight. Wayne Hallgren completed his PhD program at the University of Maryland in hypersonic aerodynamics with Dr. Anderson as his advisor. After establishing a dissertation topic, John generated a meticulous "contract" of his expectations. He explained to Wayne that if something happened to him (John) during the PhD program, the "contract" would be in the "Wayne file" with instructions that it was to be honored by the faculty member assuming his role. Decades later, Wayne still reflects on that discussion as one of the most thoughtful he has ever experienced. He recently completed a book entitled A Practical Introduction to Aeronautics — it is dedicated to Dr. Anderson, his "advisor, mentor, role model, and friend."
Jack Mattingly and Bill Heiser are giants in the airbreathing propulsion community. In 1993, then USAF Captain Keith Boyer was just recently assigned to teach in the Aeronautics Department at the Air Force Academy when Keith met Bill Heiser. One day, answering the phone, the caller responded, "This is Sheila, is Bill there?" Thinking nothing of it, Keith transferred the call to "Dr. H," only to find out later that the caller was Sheila Widnall, the Secretary of the Air Force! She was calling to ask Dr. H to chair yet another team to fix a propulsion issue of national concern. Bill was also responsible for getting Hans von Ohain, the German inventor of the jet engine, assigned as Chief Scientist of the Propulsion Laboratory at Wright-Patterson AFB, Ohio.
Jack Mattingly met Hans von Ohain in 1983 when he was his escort officer when he visited the Academy. Later when Jack was assigned to Wright-Patterson AFB, he would have lunch with him every three months, and Jack and his wife had dinner with Hans and his wife at their home. Hans had written a history of the jet engine for the 25th anniversary book published by the Smithsonian that Dr. Mattingly used in his classes. It was this personal relationship that prompted Jack to ask Hans to write an historical Foreword to Jack's initial textbook, Elements of Gas Turbine Propulsion, published by McGraw-Hill in 1995. This Foreword remains in the most recent edition, Elements of Propulsion: Gas Turbines and Rockets, Second Edition, published in 2016 by the AIAA. This 38-page manuscript has incredible insights and historical significance to the engineering profession and entire world.
Practical Aeronautics is privileged and proud to be associated with these icons of the industry. They inspire and motivate us to ensure that our professional development short courses are of the highest quality.
Keith Boyer, Vice President for Propulsion, Practical Aeronautics
Wayne Hallgren, Founder, Practical Aeronautics